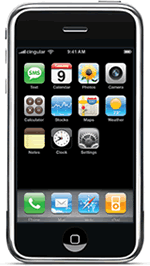 Cellphone/Smartphone Access
If your phone has Internet access you can access Umo IQ info simply by going to retro.umoiq.com. The system will automatically determine that you are using a phone and will direct to you to an appropriate site specifically designed for cell phones. We highly recomme4d that you bookmark the page once you access the information for the stop that you are interested in. That way you will be able to much more easily access the information in the future.
If you are using a new type of SmartPhone that our system doesn't recognize you might be redirected to our slower full feature site instead of the cell phone site. If this happens try going to retro.umoiq.com/mini.html instead.
---
Syntax
The 5-digit text message address is 41411. The syntax of the message is "nbus agency stop". The keyword "nbus" specifies that you want information from Umo IQ. For some agencies there is shortcut. For example, instead of specifying "nbus agency" for San Francisco Muni you can specify "nextmuni". The agency name is a short abreviation for the agency. For San Francisco Muni for example it is "nbus sf-muni". For some agencies there are alternative names. For example, you can substitute "sf" for "sf-muni".
What is the "Subscribed to" message?
When you send your first message to the Umo IQ system you will receive a reply indicating that you have subscribed to the system. This only means that you have subscribed to the possibility of the using the alert feature described below. The Umo IQ system will never send you other messages besides the arrival prediction information you have specifically requested.
Specifying a stop
There are four ways to specify your stop:
Via Menus
If you do not specify a stop (you simply specify a message such as "nbus emery") then you will be presented with a list of routes. You then specify which route you are interested in. You will then be presented with a list of directions and then a list of stops to select from. Once you have selected your stop, the corresponding predictions for that stop will be displayed. Note: this menu based way of selecting a stop is only intended for smaller agencies. For larger agencies there are most likely too many routes and stops to choose from easily, considering that SMS messages are limited to a small number of characters. For larger agencies we recommend that you specify a stop number or an address.


Specifying a Stop Number:
For some agencies each stop is identified by a stop number. If stop identifiers are available they are listed when the predictions are displayed on the main web page, as shown in the figure to the right. If your stop has a numeric stop id then you can simply use that id to obtain your arrival predictions. For example, if you want information for Emery-go-Round stop 5322 send to the address 41411 the text "nbus emery 5322". If numeric stop identifiers are not available for your transit agency then you must specify an address as described below.


Specifying an Address:
You can also enter an address or an intersection and predictions for the stops nearest the intersection. This is especially handy if you do not know the stop id or if stop ids have not been assigned for your agency. Only addresses and intersections can be used. Unfortunately you cannot specify many landmarks such as "city hall". Some landmarks work but others do not.

So for example you can enter "nbus muni 7th&folsom" or "nbus muni 1351 Folsom". Because predictions for several routes can be returned, the resulting text is very terse and vowels are removed so that the resulting information can be provided in a single text message. If you get back the message "Sorry, but your location is no specific enough to locate a stop." or "Sorry, could not process request" it might be because you need to differentiate between an Avenue and a Street or between a street and a name of a neighborhood. So if you have trouble you might want to use something like "7th st & Folsom Ave" to be more specific.

You will receive predictions for all routes that serve the nearby stops, but predictions for only a single route/direction/stop will be shown at a time. If you need information for a different route, direction, or stop you can page through the various route/direction/stops by replying with "N" to see the next one or "P" to see the previous one. When there are multiple roiute/direction/stops to choose from your instructions are shown at the bottom of the prediction text message, as illustrated in the picture on the right.

You might get too many predictions if your stop is served by multiple routes. If you only want predictions for a particular route you can specify the route name following the letter "r". For example, to get the predictions just for the route 19 buses at 7th & Folsom you would send to the address 41411 the text "nbus muni r19 7th & folsom".


Using a saved stop:
Once you have selected a stop using one of the above methods, you can save the stop by replying with the command "s stopName", where "stopName" is the name of the stop you want to save. So for example you can specify "s work" to store a stop called "work". Then you can easily obtain predicted arrival times for the stop by texting the stop name. For example, if you stored the stop called "work", then you can easily access predictions for that stop simply by texting to 41411 "nbus work".

Setting up an alert for when bus is specified number of minutes away
An incredibly useful feature of the Umo IQ SMS system is that it can automatically send you an alert when your bus is a specified number of minutes away. This way you don't have to continually monitor the Umo IQ system to determine when it is time to catch your bus. To use this feature first select a stop using one of the three methods described above. Once you have selected a stop and predictions are displayed you can simply reply to the prediction message with the number of minutes of notice you want before your bus is going to arrive. You can specify an alert time of betwee 0 and 30 minutes. So for example you can first select a stop by sending to 41411 the message "emerybus 5300". Then reply with "5" to be alerted when your bus is 5 minutes away.
Useful commands
You can specify single letter commands.
"h" or "?" for help
"r" for refresh (updates the predictions)
"p" for looking at the previous prediction when there are multiple stops, directions, or routes
"n" for looking at the next prediction when there are multiple stops, directions, or routes
"s stopName" for saving a stop for easy retrieval
"1"-"30" for sending an alert when bus is the specified number of minutes away
Why the terse abreviations?
SMS is limited to just a few characters per message. Therefore the system uses abreviated names to tell you the names of routes, directions, and stops.
Determining your agency name
You can determine the proper agency name using the following table. For some agencies there are multiple names that will work. For example, for San Francisco Muni you can use "sf-muni" or "sf".

Agency

Name(s)

Arizona
Yuma County Area Transit
yuma
Australia
BCC Ferries
tl-bccf
Hornibrook Bus Lines
tl-hbl
Laidleys
tl-l
California-Northern
Dumbarton Express
dumbarton
Escalon eTrans
escalon
FAST
fast
Manteca Transit
manteca-transit
Placer County Transit
pct
San Francisco Bay Ferry
bawt
San Francisco Muni
sf-muni , sf , muni , frisco
San Leandro LINKS
links
Sonoma County Transit
sct
Tahoe Truckee Area Regional Transit
tahoe
Unitrans ASUCD/City of Davis
unitrans
University of California Berkeley
ucb
Vacaville City Coach
vacaville
California-Southern
City of West Hollywood
west-hollywood
Glendale Beeline
glendale
Los Angeles Metro
lametro , metro , nextrip
Los Angeles Rail
lametro-rail
Omnitrans
omnitrans
Palos Verdes Transit
pvpta
UCLA
ucla
Colorado
Denver International Airport (DEN)
dia
Vail Transit
vail
Florida
I-Ride Trolley Orlando
i-ride
Jacksonville Transportation Authority
jtafla
Nova Southeastern University
nova-se
Pensacola Beach (SRIA)
sria
Indiana
Indianapolis International Airport
indianapolis-air
Kentucky
Western Kentucky University
wku
Maine
Maine Medical Center
maine-med
Manitoba
Selkirk Transit
selkirk
Maryland
APL
jhu-apl
Salisbury University
salisbury
University of Maryland
umd
Massachusetts
Cape Cod Regional Transit Authority
ccrta
EZRide - Charles River TMA
charles-river
MIT Lincoln Lab Shuttle
lincolnlab
Massachusetts Institute of Technology
mit
Mexico
Merida Transit
merida
Mississippi
City of Oxford
oxford-ms
Nevada
RTC RIDE, Reno
reno
New Hampshire
University of New Hampshire - Wildcat Transit
unh
New Jersey
Kean University
kean
Montclair State University
montclair
Newark Liberty International Airport
ewr
New York
Downtown Connection
da
JFK International Airport
jfk
LaGuardia Airport Shuttle
lga
Roosevelt Island
roosevelt
North Carolina
AppalCART
appcart
Chapel Hill Transit
chapel-hill
Elon University
elon
Greenville Area Transit
great
Vidant Medical Center
vmc
Western Carolina University CAT-TRAN
wcu
Winston-Salem
winston-salem
Oregon
Portland Streetcar
portland-sc , portland
Pennsylvania
Slippery Rock University
slippery-rock , slip
Texas
Trinity Metro
ft-worth
Virginia
Fairfax (CUE)
fairfax
Washington
Seattle Streetcar
seattle-sc , seattle
Spokane International Airport
geg